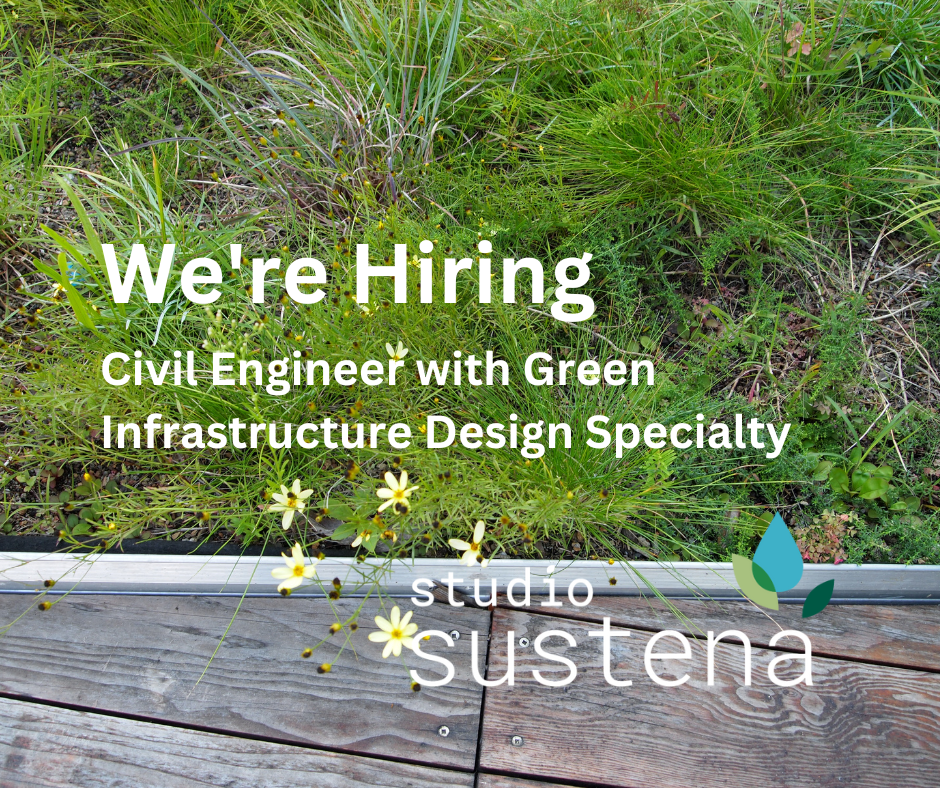 Opening | Civil Engineer with Green Infrastructure Design Specialty
Context and Fit
Studio Sustena, an integrated, landscape architecture and civil engineering practice, is seeking a civil engineer with a passion for stormwater design to join our growing team. The ideal candidate will have a working knowledge of regional permitting processes and cross training in green infrastructure design.
Focused largely on campuses, urban-infill sites, and landscapes on structure (including green roofs), Studio Sustena champions an integrated approach to landscape architecture and civil engineering that boosts opportunities for distinctive placemaking and high-performance landscapes. We believe that blending these traditionally separate disciplines reduces scope overlaps and gaps; fuels the creative process; fosters enthusiasm around collaborative problem-solving; and frees up budget for the inclusion of high-value landscape design.
Position Responsibilities
Performance of the site-civil engineering scope in Philadelphia and surrounding municipalities.
Engineering analyses in support of landscape and green infrastructure design, including but not limited to:

Interpretation of zoning, municipal, and state codes.
Existing site analysis, including vegetation and soil assessment.
Spatial design, such as amenity space and pedestrian/vehicular movement. Experience with AutoTURN or similar program is a plus.
Site design, including erosion & sediment control, grading, drainage, stormwater management, and utilities.
Proficiency with AutoCAD LT or Civil 3D required. Experience with GIS and/or 3-D Visualization software is a plus.
Stormwater calculations, including hydrologic modeling, with a focus on Green Stormwater Infrastructure (GSI).
GSI system design and details, including weir, manifold, and water distribution design.
Irrigation design.
Media review/mix assessment. An understanding of soil science is a plus.

Collaboration on all phases of site design to maximize the experiential and spatial value of required site infrastructure, to optimize the permitting process, and to enhance stormwater management.
Assistance with the review and technical assessment of in-progress site construction; facilitation of communications among design consultants and contractors, and preparation of construction-phase documents.
Credentials
4-6 years of experience preferred.
Bachelors and/or master's degree in civil engineering or related field.
EIT Required, PE Preferred.
This position is an exempt (salaried) position with a competitive benefits package. Salary will be commensurate with experience. Studio Sustena is an equal opportunity employer; a diverse pool of applicants is sought. We are committed to growing and preserving an inclusive and engaged culture that welcomes and celebrates our differences. Interested candidates should email a cover letter, resume, and references to Sara Poindexter at spoindexter@studio-sustena.com.
About Studio Sustena
Studio Sustena (formerly called Roofmeadow) is an award-winning, WBE-certified landscape architecture and civil engineering firm based in Philadelphia, PA. We specialize in elegant, inventive landscapes for rooftops and ground-level settings. For 25 years, our multi-disciplinary staff has collaborated on concept design through long-term stewardship, resulting in an unparalleled understanding of lifecycle performance. We bring together proven technologies to solve project-specific technical challenges, while emphasizing beauty within socially dynamic, urban spaces.
Our office environment is open, collaborative, energetic, and dynamic. We value creativity and prioritize individual initiative and adaptive problem-solving skills as part of a small, supportive team. Our site-design portfolio includes institutional, academic, and mixed-use development projects. All Studio Sustena design staff benefit from ample, on-site, construction-review experience in addition to in-office project development.
Entrepreneurial-minded, team oriented, small office working environment, with opportunities for advancement and growth.
Flexible and hybrid schedules offered.
A reduced work week is negotiable.
Competitive benefits package, including health insurance, retirement, PTO, and holidays.
Reimbursement for continuing education credits required for professional licensure.
Dog-friendly office.